您使用了广告屏蔽软件!
Wikia通过广告运营为用户提供免费的服务。我们对用户通过嵌入广告屏蔽软件访问网站进行了使用调整。

如果您使用了广告屏蔽软件,将无法使用我们的服务。请您移除广告屏蔽软件,以确保页面正常加载。
{{{Title}}}
{{{EnglishName}}}
電視劇系列資料
主要資料
相關頁面
[[:Category:{{{Images}}}|圖片頁面]] • 討論頁面 • 推論頁面
第4季 第10集 Something Nice Back Home​于美国时间5月1日播放。 当Jack的身体健康状况受到危害时,Juliet和Kate必须学着同心协力去挽救Jack,而Sawyer, Claire, Aaron 和 Miles 在从Locke的营地返回海滩的路途中遇到了麻烦。
在帐篷里Jack 迷迷糊糊的醒来看到 Juliet正在试图唤醒自己。 当他站起来以后, 和Juliet来开帐篷,外面Rose, Bernard, Sun, Jin 正在和Daniel 和 Charlotte争吵。 Bernard质问Daniel为什么他说卫星电话没信号了, 因为昨晚在和货船通话时还能用。Jack 干预进去并承认Daniel和Charlotte曾经对大家说了慌。. Jack说货船上的人会来这儿接 Daniel 和 Charlotte ,到那个时候他们也会准备接受救援。Jack告诉大家必须有耐心,而且承诺大家一定会离开小岛。然后Jack疼昏倒在地上。
Jack站了起来,这时 Kate 朝他走了过来。 她很担心,抚摸Jack的额头以测试Jack体温,但Jack说他没事,只是需要休息。
当Juliet进帐篷的时候,Jack正在大量的服用抗生素。他说自己胃疼是因为食物中毒和脱水,但Juliet不认同。当她摸了Jack的腹部后,她告诉他疼痛是来自他的阑尾。现在唯一的选择就是做手术切除
Juliet给Sun一个写着做手术需要的东西的名单并让她到医疗救护站去取。Sun说她不知道这些设备是什么样的,Daniel说他可以提供帮助,他说他曾经做过动物解剖,他知道需要什么工具。Sun立即反对他。Charlotte告诉Daniel说这些人一直认为他们来这儿是为了杀死他们。并认为他们一直是在演戏。Daniel说他这样做是为了让生还者相信他们(仅仅只是科学家)。Juliet同意Daniel的版主,但给了Jin一把枪说只要他们两个人能任意一个逃跑就打他们的腿。Juliet告诉剩下的人说需要为手术准备一个无菌环境。
在Bernard和Rose在洗为手术准备的桌子的时候讨论关于Jack的病情。Rose问Bernard为什么Jack会生病,Bernard回答说是Jack的运气差,但Rost认为这Jack生病不是一个巧合,因为在小岛上没有人会生病。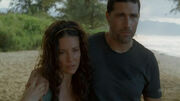 Juliet给Jack清理腹部为为手术准备,Jack给她说该怎么做,并在手术的时候只局部麻醉,他想看着手术的进程,为了能看到他的腹部,他坚持让Kate拿着镜子,通过镜子反射看。 尽管Juliet表示担心,但她还是答应了。
Jin, Sun, Daniel和 Charlotte 到达医疗救护站。Daniel决定在Charlotte前面先进去以确定安全。Jin和Sun用韩语说Charlotte是否意识到Daniel喜欢她,Sun回答说:"她是个女的,她当然知道。"Charlotte害羞的回头看了他们一样并微笑着走了进去。
进去之后Daniel环顾四周然后问道这里的电力能源是从哪儿来的。Charlotte回答说"把这个问题加进单子里。"Sun来到Juliet给他检测小孩的床边告诉Jin关于Juliet带她来这里做检查并用那台仪器第一次看到了肚子里的小孩。Sun特别希望离开小岛,她感觉Charlotte和Daniel还有其他货船上的人不是为了来救他们的。Jin承诺她他将会尽其所能让她和她的小孩平安出岛。在他们谈话过程中Charlotte一直在偷看他们。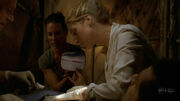 回到海滩,Kate和Juliet在讨论关于手术的事。这是Jack走出帐篷,Kate走上去搀扶Jack去手术帐篷,Back at the beach Kate and Juliet are discussing the surgery, and Jack's stuborness, when Jack stumbles out of the tent, claiming he can walk the 50 feet to where the surgery will be performed. Kate walks Jack over to the surgery tent, saying she will be his nurse. Jack tells her, "it isn't the first time." Jack then starts to tell Kate, "If something should happen to me during surgery...." Kate cuts him off with a "shut-up" to which Jack replies, "fair enough."
到了晚上,Jin他们从医疗救护站回来。Jin把Charlotte叫道一边说他们知道她能听懂韩语。因为当他和Sun讲话的时候他看到她扭过头笑。Charlotte不承认,但Jin威胁说如果不承认他就弄断Daniel的手指头,Charlotte不得不承认并问Jin要什么条件,Jin说当直升飞机离开小岛的时候必须带上Sun。她点头,Jin离开。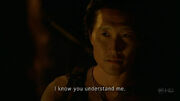 In the surgical tent, Juliet, Kate, and Bernard prepare to operate. Bernard suggests that he knock Jack out with chloroform that was brought back from the medical station but Jack refuses. Bernard locally numbs the area on his abdomen and Juliet makes the first incision while Kate holds a hand held mirror for Jack to see. Jack grunts and yells as Juliet begins to spread the incision and she sees that he is in too much pain to stay awake. Juliet orders Kate out of the tent and Bernard to knock him out. Bernard places a chloroform rag over Jack's mouth and he passes out.
Outside the tent after the surgery is finished, Bernard tells Kate that everything went fine. She enters the tent where Juliet is stitching Jack up and she reassures Kate that he will be fine. She tells Kate that Jack kissed her the other day. She tells her that it wasn't for her, however, but for himself, and that he was trying to prove that he "doesn't love someone else." Kate thanks her for saving Jack's life and she walks out. Juliet tells Jack that she knows he's awake and he opens his eyes.
In the Jungle
编辑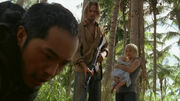 Sawyer, Claire, and Miles are walking through the jungle when they come to a clearing. Claire tells Sawyer she's feeling much better, but she still has a headache. "At least I'm not seeing things anymore," she says. Miles asks her what she used to see, but Sawyer puts a stop to that conversation. Suddenly, Miles looks uneasy as whispers swirl about. He stops walking, listens, and asks, "Who's Danielle and Karl?" He starts digging in the dirt to find both of their bodies in shallow graves. Sawyer asks Miles how he knew about the two but Miles gives no reply. Sawyer accuses Miles' team of killing them, but he denies that he is on the same team with Keamy and his men. Miles seemes upset to find the bodies and says, "I didn't sign up for this." Claire just wants to leave and Sawyer escorts her away, promising that everything will be fine once they make it back to the beach.
Later, Claire is caring for Aaron as Miles watches down on them. Sawyer approaches and tells Miles he isn't to talk to Claire, look at Claire or even think about Claire, and that he officially has a 20-foot restraining order. Miles cracks a joke and asks Sawyer if he's Claire's "big brother," to which Sawyer replies, "No I'm just the guy who is going to put a big boot in your face if you don't say "yeah, man, I getcha"". To which Miles replies "Yeah, man, I getcha," and he walks away.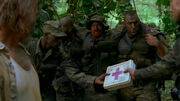 Later, while walking through the jungle, Miles tries to persuade Claire to let him help out with Aaron, because he is "good with kids." Sawyer comes over and asks him "What part of restraining order don't you understand?" Suddenly there is a rustling in the brush and Sawyer goes to investigate as Frank Lapidus comes running out carrying his satellite phone and a first aid kit. He's very startled and addresses Miles first, while Sawyer asks "You two know each other?" Frank, still in a hurry tells them there is no time because Keamy and his men are on the way and if he finds them there he will kill them all so they need to hide immediately. They all go hide in the nearby brush and watch as Keamy and his men come through. They all seem in good shape except for one mercenary who is seriously hurt. Lapidus looks at him and asks Keamy what happend. Keamy is evasive and says to him "You do your job, and I'll worry about mine." His only concern is the location of the helicopter which he asks Lapidus about. Frank is telling him it's not far, but they have to get going when suddenly Aaron lets out a little cry. Keamy seems to hear it, and looks around, suspicious. In an attempt to protect the people hiding, Frank starts urging Keamy and his men to get to the helicopter because it is starting to get dark and he refuses to fly out on Faraday's coordinates in the dark. After a heavy pause, Keamy agrees and they head off into the jungle again.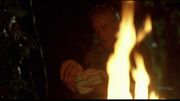 That night Claire awakenes to find Aaron isn't beside her. She looks across the campfire to see her father, Christian Shephard holding him. Claire recognizes him and asks, "Dad?".
The next morning, Sawyer wakes up and glances over to Claire's sleeping area to notice it empty. He asked Miles where she is and Miles says he saw her take off into the jungle. Sawyer doesn't believe that Claire would wander off alone but Miles says she wasn't alone, she was walking with someone she called 'Dad'. Sawyer demands to know why Miles didn't try to stop her and Miles mentions his restraining order. As Sawyer is about to rough Miles up, he hears Aaron crying in the jungle. He leaves Miles and runs off to find Aaron on his blanket at the base of a tree by himself. He picks him up and looks around screaming for Claire who is nowhere to be found.
Flashforward
编辑
Jack
wakes up in bed to the phone ringing. It is his receptionist,
Jean
, reminding him of an 11 a.m. consult with
Ms. Berenberg
which was moved up the previous day. She feels it necessary to remind him because he's not good with his calendar. He thanks her and gets out of bed wearing only a towel. A pair of orange panties is lying on the floor beside the bed. Jack pick these up, smiles coyly, and then tosses them into the clothes hamper. Still in his towel, Jack proceeds downstairs to the kitchen where he steps on a Millennium Falcon toy. He reels back in pain, curses, and puts it on the counter. Jack places two leftover wine glasses in the sink, and begins making coffee. He then picks up the newspaper sports page which features a story about the Yankees sweeping the
Red Sox
, causing him to scoff, "A-Rod".
Jack then enters the bathroom to find a woman showering. He greets her, they talk, and she tells him that she bought him a new razor. He replies "Oh, you don't like the scruff?" The shower turns off, Kate steps out and Jack grabs her a towel. With her smiling brightly, Jack says, "Good morning" and they kiss.
Later, Jack is reading Aaron a bedtime story from Alice's Adventures in Wonderland, as Kate looks on. With Aaron asleep, Jack turns out the light. In the hall Kate tells Jack he "is a natural." Jack tells Kate that his father used to read him that story. Kate smiles and mentions it's nice to hear Jack say good things about his father. Jack asks, "I don't say good things about my father?" He then says his father was a good storyteller. Kate softly tells Jack that she loves seeing him with Aaron, that she is glad he changed his mind and glad he's there. Jack replies, "me too" and picks Kate up and presses her against the wall to make out. He carries her from the hall while she laughs.
The next day, Jack is finishing the consult with Ms. Berenberg, giving her instructions for her surgery the following day as he walks her to the hospital lobby. Jack catches a glimpse of a familiar face, and does a double-take to see Christian Shepard, wearing the same blue suit Jack repeatedly saw him wearing on the island, walking through the lobby. Jack's co-worker, Dr Erika Stevens, calls his name twice to get his attention, wanting his opinion on a spinal x-ray, an L-4. The receptionist then tells Jack a Dr. Stillman from Santa Rosa Hospital is calling about "a friend of yours".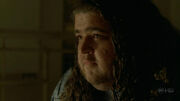 Jack goes to the hospital to meet with Dr Stillman, who says Hurley has been refusing his medication and has stopped sleeping. Jack asks about therapy, but Dr. Stillman says therapy is now out of the question because Hurley believes Dr Stillman isn't real. Jack goes to see Hurley, who tells him that he isn't taking his medication because he believes that he and the rest of the Oceanic 6 died without ever escaping the island and are now stuck in the afterlife. Hurley asks Jack about his day, which Jack describes, talking about Kate and Aaron. Hurley questions that Jack didn't want to be with Kate and Aaron, but Jack replies he changed his mind after Kate's trial. Hurley compares Jack's life with Kate and Aaron to heaven. Hurley tells Jack he continues to receive visits from Charlie, regularly talking to him on a bench on the lawn outside the hospital. He tells Jack that Charlie visited him the day before and had predicted Jack's visit. Charlie had a message for Jack which he made Hurley write down so he would get it exactly, stating "You're not supposed to raise him, Jack". Hurley asks if "him" means Aaron. Jack says he doesn't know and tells Hurley to just take his meds. Hurley tells Jack that he will soon be getting a visitor of his own.
Later that night Jack comes home to a sleeping Kate and wakes her up. She asks if he was working late, but he says he was out doing errands. He asks her about the previous night with Aaron when she said he was a natural. Jack asks her if she really thinks he is "good at this?" She tells him she does and after a long pause, Jack asks Kate to marry him. He pulls a diamond ring from his pocket and places it on a tearful Kate's finger, who replies "Of course I will, yes!"
Jack is reviewing
Ryan Laker
's x-ray, stating into a tape recorder that there is an
osteoblastoma
on the posterior area of the lumbar and he is recommending a biopsy. He is interrupted by the persistant beeping of a low-battery warning on a smoke detector. He goes to the reception area, climbs onto a desk, and pulls out the battery. After climbing down, Jack is startled to hear his name called out by his father. He turns to see Christian Shepard sitting in the lobby, again in the blue suit with white shoes he is seen wearing around the Island.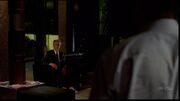 As he is still trying to take it in, Dr. Stevens approaches him from behind and calls his name. He turns to respond to her and when he turns back toward the chairs, his father has disappeared. Jack is distracted and Ericka asks if he is okay. Jack asks Ericka to write him a prescription for
clonazepam
, stating he has a lot going on right now, including a heavy caseload and his new engagement. She reminds him an engagement is supposed to reduce stress, not create more, and suggests he "talk to somebody". He replies he'll do that and happily takes the prescription. When Jack gets home, he hears Kate talking on the phone. She is saying that "Jack's not home before eight" and "stay for at least an hour". She quickly gets off the phone when she realizes Jack is home. He asks her who was on the phone, and Kate tells him it was
Maureen
, another mom from the park. Jack says Kate has never mentioned her before. Kate blows this off and kisses Jack, then heads upstairs. An obviously stressed Jack gets out his new prescription, and washes two pills down with a bottle of beer.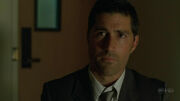 Sometime a week after that, Kate comes home to find a drunk Jack. He confronts her about where she was and why Veronica, the nanny, was at the house when Kate should be home. Kate replies she was running errands, and when pressed, asks for Jack's trust. Jack tells her about his visit with Hurley, calling him crazy, and then again presses Kate for where she really was. Kate begs jack to leave it alone, but Jack persists. She finally admits she was doing a favor for Sawyer. When Jack asks why she would keep this secret from him, Kate tells him, because "he wouldn't want her to". Jack reminds her that he is the one who is there for her and who saved her, that Sawyer made his choice to stay while Jack came back. Kate becomes upset and says she can't have Jack drunk and acting like this around her son. Jack becomes angry and yells at her that she isn't even related to Aaron, just as Aaron walks in. Kate comforts Aaron, looking sadly at Jack, as he turns and walks away.
Trivia
编辑
General
编辑
By virtue of the Yankees/Red Sox and Indians/Mariners scores in the newspaper article, only one date is viable for the publication of the paper: August 31, 2007. Article states Yankees finish their sweep of the Red Sox with winning pitcher Chien-Ming Wang beating Curt Schilling 5-0. The only occurrence of this game is the date above. However, the newspaper also lists "Angels 8 - Astros 4" but the Astros were playing the St. Louis Cardinals over these dates. As such, the newspaper most likely isn't able to indicate the correct date.
Early in the episode Claire mentions her relief at not "seeing things anymore". This is a reference to a scene cut out of the previous episode where Claire has a prophetic vision.
This is the first time in the series that, while the mysterious whispers are heard, the listener doesn't get startled -- Miles is a psychic and consciously tries to extract information from what he hears. It is implied that his approach might have its merits, since he gets Danielle's and Karl's names and burial sites from the whispers.
Production notes
编辑
The Yankees/Red Sox newspaper article is by "Gregg Bilson, Staff Writer". Gregg Bilson is the founder of Independent Studio Services, a company that produces props for the film and television industry (Bilson brand cigarette props appear in Lost). The email address marvin.mancia@studiographics.us also appears in the article. The address studiographics.us is used by Independent Studio Services. Much of the text seen in the article appears in a real New York Times article here.
John Terry appears as Christian Shepard but was not listed ahead of time in the offical ABC press release.
Bloopers and continuity errors
编辑
Jack does not have an appendectomy scar in the future, although this may be a result of the Island's healing powers.
Daniel tells everyone that he used to perform animal autopsies, but they are called necropsies.
Recurring themes
编辑
Cultural references
编辑
Literary techniques
编辑
Storyline analysis
编辑
Episode references
编辑
Unanswered questions
编辑
未解決的謎題
請不要在這裡解釋這些謎題
提出問題時請不要暗示答案
如對以下的未解決謎題有任何推論,請到理論頁面去討論
Flashforward
编辑
What was Kate doing for Sawyer?
Why did Sawyer decide to stay on the Island?
How is Christian appearing to Jack?
On the Island
编辑
Where did Christian lead Claire to?

Why did she leave Aaron behind?

How did Keamy and his team survive the Smoke Monster attack?
External links
编辑