| | | |
| --- | --- | --- |
| | 官方發行的DVD碟和藍光碟 | |
LOST:第1季-第6季完整系列

附加內容
之前季度的所有附加內容
本季的2小時特別附加內容
Lost: The Complete Collection is an upcoming box set that will contain all 121 episodes of Lost. It will also contain over two hours of bonus footage exclusive to the complete collection. There will be 38 discs in the DVD set and 36 for Blu-ray. It is expected to be released, along with the Season 6 DVD, on August 24, 2010.
Press release information
BURBANK, CA, May 27, 2010 – Since its highly-anticipated premiere in September 2004, ABC's LOST has revolutionized primetime television, bringing big-screen adventures home with a powerful story of survival. Attracting a massive fan following and huge critical acclaim, LOST has already become a pop culture phenomenon. Now, celebrating television's most original and creative series, Walt Disney Studios Home Entertainment proudly debuts Lost: The Complete Sixth and Final Season and Lost: The Complete Collection - both on Blu-ray and DVD, August 24.
An epic box set for the ultimate LOST fan, Lost: The Complete Collection is a fantastic icon-clad, secret-laden, Blu-ray and DVD box set containing every episode, from all six seasons. Additionally, the elaborate release includes over 30 hours of bonus material (from every season), plus one full disc of bonus exclusive to the collection, containing a fascinating array of all-new behind-the-scenes featurettes; documentaries; and a series of unique tours of Oahu with many of the cast as they reflect anecdotes, experiences and emotions of working on the series and living on the island; and more.
Exclusive bonus features
The Complete Collection will contain all previous and new bonus material from Seasons 1-6, (Note: It is not known if this includes Best Buy or Lost Chronicles bonus disc material) plus an exclusive disc containing two hours of bonus features. The exclusive content includes:
A unique series of featurettes that takes viewers on very personal tours of Oahu where the series was created, with key cast and crew as they reflect.
Exploring the global phenomenon that is Lost, bonus showcases events ranging from the series cast and crew at San Diego's famed Comic-Con convention to international voice recordings, local events and even fan parties, all of which helped make the show into a worldwide favorite.
A closer look at some of the props with cast, writers and producers, exploring their significance, stories and emotional ties to the characters.
Humorous yet emotional look at every character who died on the series.
16 hilarious Lost "Slapdowns" featurettes showcasing celebrity Lost fans who confront Executive Producers Damon Lindelof and Carlton Cuse to ask press questions about the final season, including the Muppets and cast members Nestor Carbonell, Michael Emerson, Rebecca Mader and more.
According to Michael Emerson, there will be at least one epilogue exclusive to the complete collection. It will be 12 to 14 minutes long and deal with Ben and Hurley's time protecting the Island. [1]
附加物料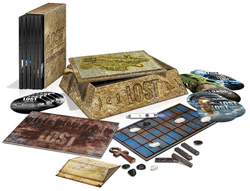 除了影碟外,系列還含有一些附加物料,包括:
See also
External links