Lost:第5季DHARMA計劃介紹箱是Lost:第5季完整系列的特別版,亦是各季完整系列中的唯一一套特別版。它與Lost:第5季完整系列一樣,包含了第5季的17集和附加內容,而DVD碟版或藍光碟版都分別有5隻碟。
附加物料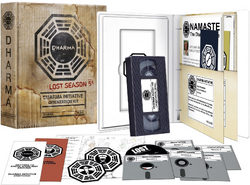 It comes in a unique package and contains five discs, one VHS tape, maps, patches, pamphlets, and other paperwork. [1][2] The set contains the following:
A welcome message from Horace Goodspeed. [3]
A VHS tape containing a long version of the Barracks video [4]
Three leaflets about certain DHARMA departments. The Motor Pool[5][6], the Cafeteria [7][8]and Security. [9][10]
A map of the Barracks. [11]
Terms and conditions of the DHARMA Initiative. [12]
Four DHARMA logo jumpsuit patches. The Cafeteria, the Lamp Post, the Swan and the Security Team. A limited edition fifth Submarine patch is available in selected sets.
All five discs of Season 5 on DVD or Blu-ray Disc.
A CD version of Geronimo Jackson's single "Dharma Lady".
A sealed envelope from the Security Team, marked "Confidential." It contains the Letter of Truce, dated August 15, 1973.
This special edition box set was only released in the US and Spain.
您使用了广告屏蔽软件!
Wikia通过广告运营为用户提供免费的服务。我们对用户通过嵌入广告屏蔽软件访问网站进行了使用调整。

如果您使用了广告屏蔽软件,将无法使用我们的服务。请您移除广告屏蔽软件,以确保页面正常加载。